Our Monofilament Looped End finish mop offers a solution to the main problems of floor finishing: lint, operator fatigue and wasted finish. • Made from white, no lint monofilament yarn. • Glides smoothly and evenly. • Releases completely. • Looped ends resist tangles and frays. • Laundering not required - just rinse in cool water and drip dry. • Durable vinyl-coated polyester mesh center band • Sizes available: Medium, Large, Extra Large.
This cut end wet mop comes with a heavy duty plastic attachment that screws onto the handle. It is made with rayon blended yarns which are superior in absorbency and do not require a break-in period. The Rayon material has minimal linting and is ideal for applying floor finish and disinfectants. It is also more bleach resistant and mildew resistant than cotton yarns, and is more durable because it is produced with 100% long staple synthetic fibers. • Made with rayon blended yarns • This mop yarn is produced from fiber that is reprocessed from plastic reclamation making it an excellent choice if you have a green cleaning program. • Sizes Available: 16, 20, or 24 ounces. Use with your choice of handles LF54, LF60 or MLF60 shown in our hardware section.
Our Rayon wet mop is perfect for liquid application. Rayon keeps chemicals and disinfectants on the floor longer, which is significant in health care facilities. Made from 4-ply rayon/synthetic blend yarn. Fast drying, relatively low lint. Mildew resistant. Looped ends resist tangles and frays. Durable vinyl-coated polyester mesh center band available in wide or narrow. White only. Sizes available: 12, 16, 20, 24, 28 ounces.
The Relintless™ Microfiber Looped End Wet Mop glides smoothly over rough, abrasive floors and won't shred or lint. Unique microfiber blend picks up the smallest dirt particles for deep cleaning. Heavy-duty strands stand up to everyday mopping. Fantail style provides wide surface span and even coverage. Can be laundered and reused. Do not bleach and/or fabric softener. Comes with a 5" (12.7cm) headband. Sizes Available: Medium (Green Band Color) - 16 oz. Large (Red Band Color) - 24 oz.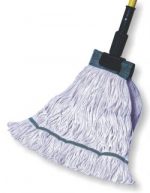 Our shrinkless mops are made with premium synthetic 4 ply yarns. Their durability will be long lasting and they are an excellent choice for general cleaning applications. Performance equivalent: Small = 8-12 oz. Medium = 16-20 oz. Large = 24-28 oz. X-Large = 32+ oz.